Philip Ward
Attorney At Law
---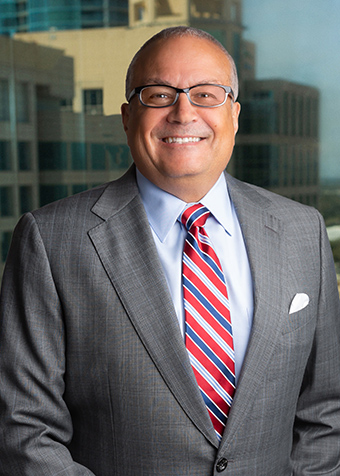 Of Counsel
Phil splits his time between the GrayRobinson Tampa and Fort Lauderdale offices, where he practices as a complex commercial litigator and trial attorney. He has significant bench and jury trial experience, representing a vast array of small, medium, and large private and public companies in litigation, arbitration, and alternative dispute resolution. Throughout his successful career spanning more than three decades, Phil has worked closely with general counsel, corporate officers, shareholders, management, elected officials, trustees, and other professionals with a team approach toward obtaining the most favorable resolution for difficult external and internal problems.

Phil has managed teams of lawyers and paraprofessionals as lead counsel in representations of domestic and foreign companies in a wide array of large exposure complex litigation, arbitrations, and investigations. This experience includes: business disputes involving contractual breaches, fraud, and negligence; corporate defense of whistleblower claims; representation of ERISA plans in employer withdrawal liability arbitrations; coordinating with general counsel and officers in DOL and DOJ corporate compliance investigations; defense of False Claims Act and Foreign Corrupt Practices Act matters; deceptive trade practices, defense of patent infringement, trade secret, and unfair competition litigation; defense and prosecution of trademark and trade dress infringement, trade secret, and unfair competition litigation; defense of municipalities and police departments in Civil Rights Action; defense of health care insurance companies against physician group fraud; defense of the State of Florida as special counsel in dozens of multi-million dollar condominium association construction claims for hurricane damages; defense of professional liability claims, including legal malpractice, medical malpractice, accountant malpractice, and defense of auditors in securities class actions; defense and civil prosecution of real estate development litigation, including franchise de-branding litigation in the hotel/hospitality industry; defense and civil prosecution of environmental litigation involving toxic substances; product liability defense; corporate defense of anti-dumping penalties levied by DOJ for importation of goods; corporate defense in FLSA collective actions; and all varieties of emergency and time-sensitive matters involving temporary restraining orders and preliminary injunctions.

In addition to the litigation experience previously mentioned, Phil has significant experience with litigation holds involving electronically stored information (ESI) and corporate compliance with safeguarding same during threats of litigation and pending litigation. Phil has worked with corporate officers and their IT professionals to ensure such information has been protected in compliance with federal and local requirements to avoid unnecessary litigation penalties and unfavorable inferences that would torpedo successful and favorable results in litigation and alternative resolution of disputes.