Leeann M. Krieg*
---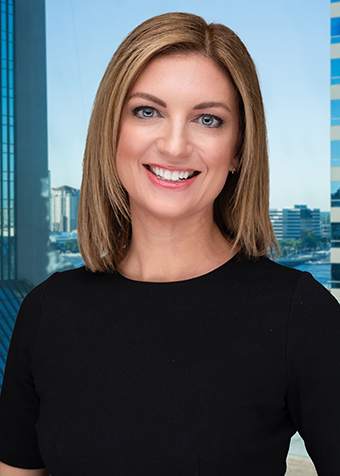 Senior Government Affairs Advisor
Ambitious legislative advocate with deep Florida roots. Successful history of collaborating with state government officials and local leaders to navigate challenges and capitalize on opportunities.
Working alongside and leading local government for more than a decade, including her recent tenure as director of government affairs for the City of Jacksonville and chief of staff to Mayor Lenny Curry, and backed by a track record of advocating for millions of dollars in appropriations through the Florida Legislature, Leeann provides clients a profound and proven understanding of how to achieve results in government.
An unwavering dedication to her hometown fuels Leeann's commitment to state and local politics. A lifelong resident of Jacksonville, Leeann has a deep appreciation and unique understanding of the Northeast Florida community and has made significant contributions as a valued member of various government offices. In 2012, she began her political career as campaign manager for Greg Anderson, City Council At-Large 4. Through relentless effort and dedication, Leeann helped ensure his victory in two consecutive elections and collaborated closely with multiple city government departments and two Mayors to address crucial issues.
Subsequently, from 2018 until her move to GrayRobinson, Leeann played an indispensable role in Mayor Curry's office. During her five-year tenure, she led the government relations team, leveraging her extensive connections with members of the Jacksonville City Council to advocate for and accomplish objectives. Additionally, she supervised the City's legislative agenda at local, state, and federal levels, oversaw public affairs for the administration, and effectively advocated for several vital funding, legislative, and policy initiatives.
*Denotes non-attorney professional
Notable Work

As Chief of Staff for the City of Jacksonville, helped secure over $100 million in local and state funding for a major financial technology center to be built in Jacksonville's urban core.
As Director of Intergovernmental Affairs for the City of Jacksonville, successfully advocated for the passage of the Local Option Gas Tax, ultimately helping to secure over $900 million in funding for local infrastructure projects.
Created and implemented critical COVID-19 policies and programs for the City of Jacksonville.
Helped secure tens of millions of dollars in state funding for crucial city projects such as phasing out septic tanks in disadvantaged areas, creating a wellness center for city firefighters, and Jacksonville's crime prevention initiative, Cure Violence.

Media

"Personnel File --- People on the Move, August 7, 2023," News Service of Florida, August 7, 2023
"Leeann Lands," Jacksonville Bold, August 2, 2023
"Sunburn — The morning read of what's hot in Florida politics," Florida Politics, August 2, 2023
"Personnel note: Leeann Krieg joins GrayRobinson lobbying team," Florida Politics, August 1, 2023
"Jacksonville Bold for 1.5.22: 10 people to watch in 2022," Florida Politics, January 2, 2022
"Chief of Staff Jordan Elsbury to leave city administration," Jacksonville Daily Record, November 2, 2021
"Personnel note: Second-term promotions for Lenny Curry staffers," Florida Politics, June 15, 2020