Dean Cannon
Attorney At Law
---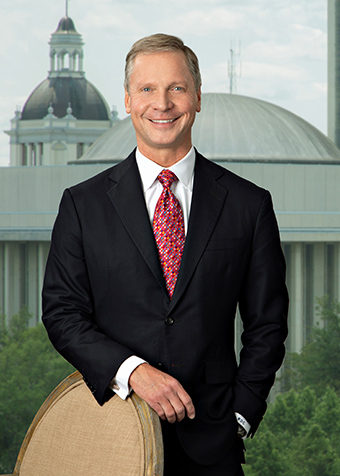 President and Chief Executive Officer
T 850.577.9090
F 850.577.3311
Tallahassee 301 South Bronough Street Suite 600 Tallahassee, Florida 32301
T 407.843.8880
F 407.244.5690
Orlando 301 East Pine Street Suite 1400 Orlando, Florida 32801
Transformational leader and savvy strategist with deep roots in Florida law and politics. Former Speaker of the Florida House of Representatives collaborating with clients and colleagues to inspire change and accelerate growth.
Dean Cannon is president and chief executive officer of GrayRobinson. An agile and affable leader, he guides the strategic direction of the firm through a collaborative approach with a focus on delivering exceptional service to clients and empowering the firm's professionals. Respected and appreciated by clients and colleagues alike, Dean believes in the power of community as the driving force behind positive change. He understands that technology, innovation, and creativity are redefining the practice and profession of law and supports a culture where a diversity of ideas and collective thinking are the catalyst for growth.
Dean is a natural connector and curator of relationships. He draws on his many years of successful public and private sector leadership to inform his decision making and mobilize the collective energy of the firm's nearly 300 legal and lobbying professionals. A thoughtful and perceptive ally, he helps clients and colleagues break through limitations to advance their priorities and realize success.
Dean's depth of experience and insightful perspectives are among his most powerful assets. He served in the Florida House of Representatives from 2004 until 2012. During his eight-year tenure, he played pivotal roles in property tax reform, growth management reform, health care and Medicaid reform, and major transportation infrastructure policy initiatives, among many others. He was selected by his peers to become Speaker of the House for the 2010 to 2012 term and is credited with leading the Florida House effectively during a time of great economic and political turmoil.
Dean's legislative and executive branch lobbying experience includes representing private clients and local government entities on issues including transportation, education, health care, insurance, and appropriations matters. He has also handled civil litigation, administrative law, and regulatory matters before the Division of Administrative Hearings, and appellate matters before district courts of appeal and the Florida Supreme Court. He represents several corporate clients, local governments, regional government entities, and local government-related associations.