Brian H. Bieber
Attorney At Law
---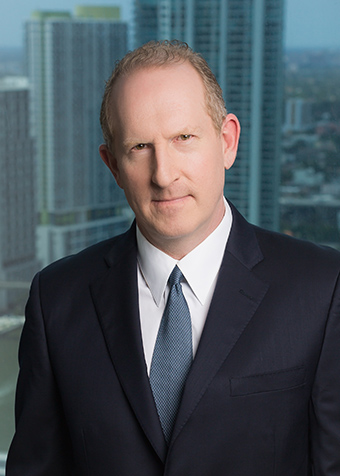 Shareholder
Brian Bieber is a shareholder with the Miami law firm of GrayRobinson, P.A. He and his law partner Joel Hirschhorn, formerly of Hirschhorn and Bieber, P.A., merged with the firm in November of 2013. He is engaged in criminal and civil white collar defense litigation (both high profile and extremely confidential) for corporate executives, prominent individuals, athletes, actors, recording artists, high ranking elected officials, government employees, ordinary citizens, as well as small, midsized and major multimillion-dollar businesses, in all federal and state courts at the trial and appellate levels. Brian concentrates on the defense of criminal violations in the areas of banking, bankruptcy, cryptocurrency/non-fungible token ("NFT"), computer, environmental, health care, insurance, mail, mortgage, pharmaceutical, real estate, securities, tax, wire and other types of fraud. Additionally, he defends clients charged with violations of the Foreign Corrupt Practices Act ("FCPA"), money laundering and "RICO" statutes, regulatory matters (EPA, OSHA), Native American and Gaming laws, fraud involving COVID-19/coronavirus issues, the Paycheck Protection Program ("PPP"), Economic Injury Disaster Loans ("EIDL"), and the Coronavirus Aid, Relief, and Economic Security ("CARES") Act. Brian has represented clients' interests in Belgium, the U.S. and British Virgin Islands, Colombia, the Dominican Republic, Ecuador, England, France, Germany, Guatemala, Honduras, Italy, Iran, Kazakhstan, Lebanon, Luxembourg, Mexico, Peru, Spain, Syria, and Uruguay. He also represents individuals and corporations involved in grand jury investigations. Brian has successfully represented, by way of dismissals before trial, and acquittals by juries, numerous clients charged with serious criminal activity who were facing lengthy prison sentences if convicted.
Brian is admitted to The Florida Bar, the New York Bar and the District of Columbia Bar. He is also admitted to practice before the U.S. Supreme Court, the 2nd, 3rd, 4th, 5th, 6th, 8th, 9th, and 11th Circuit Courts of Appeal. He is a member of the Dade County Bar Association, The Florida Bar Criminal Law Section, the Florida Association of Criminal Defense Lawyers, and the National Association of Criminal Defense Lawyers. Brian was a director and served on the Board of the National Association of Criminal Defense Lawyers from 2009-2018 and is a fellow of the prestigious American Board of Criminal Lawyers.
Brian was a recipient of the Daily Business Review's 2005 Most Effective South Florida Lawyer Award. He was also named a finalist of the Daily Business Review's 2007 Most Effective South Florida Lawyer Award. He has been acknowledged in Super Lawyers from 2006 to present and named by Florida Trend magazine as a Legal Elite for the years 2005, 2008, 2010 to 2018, and 2020 to 2022. He has also been named in the South Florida Legal Guide's "Top Lawyer".
Brian has successfully challenged, by way of appeal, Florida law enforcement's ability to collect DNA samples from convicted felons who are no longer being supervised by the state. He has earned an AV rating by Martindale-Hubbell, has been featured numerous times in the Miami Herald, Sun-Sentinel, Palm Beach Post, Ocala Star Banner, and other daily newspapers across the country. He has also been featured in the New York Times, Wall Street Journal, National Law Journal, and various national and international publications. Brian has appeared on CNN, Dateline, Good Morning America, Telemundo, 48 Hours, FOX News Channel, as well as other radio and television appearances throughout the U.S. and internationally.