Trevor B. Arnold, B.C.S.
Attorney At Law
---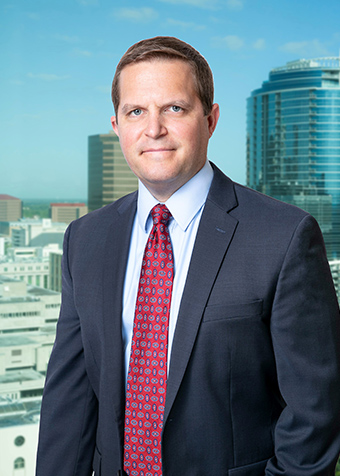 Shareholder
Construction Team Leader
Trevor leads GrayRobinson's Construction Team and is based in the firm's Orlando office. His practice is focused on civil litigation. His experience encompasses litigation, arbitration, mediation, loss prevention and risk management. Trevor has significant trial experience with commercial/business and construction litigation. He handles litigation in federal and state courts throughout Florida. Trevor holds an AV Preeminent rating from Martindale-Hubbell.
One of Trevor's primary areas of concentration is construction litigation. He is board certified in construction law by The Florida Bar. Trevor handles and has experience with a wide variety of construction disputes, including personal injuries/deaths during or after construction, defects and/or failures and delays and/or inefficiencies. He has also lectured on numerous construction law issues including The American Institute of Architects (AIA) contracts, design professional liability and "Green Building" or LEED issues.
Trevor has experience handling construction claims involving various types of projects and construction. He handles disputes relating to industrial projects, including power plants and cement plants. His practice encompasses claims relating to infrastructure or transportation projects, including roadways, rail systems, airports, bridges and tunnels. He represents clients regarding disputes over residential projects, including apartments, condominium conversions, oceanfront condominiums, single-family homes and residential subdivisions. Trevor handles disputes over remediation, mold, sinkholes, hurricane damage and indoor air quality issues. He has litigated and tried commercial construction cases such as a hospital, a theme park, an international fiber optic telecommunications network and a university building. Furthermore, he handles civil works projects involving storm-water, wastewater and utility systems.
Trevor also handles various commercial and business litigation including disputes regarding contracts, leases, franchises, business torts, trade secrets, intellectual property, product liability, insurance and employment and non-competition agreements. Trevor's practice further includes election law, local government matters, insurance and personal injury.