Leonard Collins
Attorney At Law
---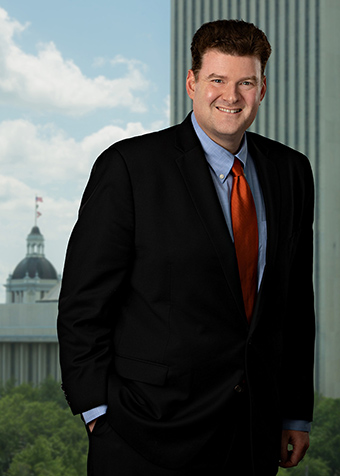 Shareholder
Experienced administrative litigator with deep roots in Florida law and politics. Former general counsel to Senator Marco Rubio and Parliamentarian of the Florida House of Representatives.
Len Collins has been helping clients maneuver through Florida administrative rules and regulations for more than twenty years. A seasoned litigator with unique insider perspective, he represents regulated entities, including a focus on clients subject to gaming laws and regulations, political campaigns, Florida Political Committees, Federal Super PACs, trade associations, and nonprofit organizations in civil litigation, administrative litigation, and state and federal elections law. Practicing at the intersection of law and government, Len advises clients operating in these complex environments, advocating on their behalf to achieve optimal outcomes.
Len understands the intricacies of administrative law. He represents clients in circuit and federal courts throughout the State of Florida and the United States. He also represents clients before government bodies and special districts in administrative litigation, with a focus on bid disputes and other types of procurement proceedings and rule challenges.
Before entering private practice, Len served as general counsel to Senator Marco Rubio and as parliamentarian of the Florida House of Representatives. As parliamentarian, he assisted members of the House with the application of the state constitution, the rules of the House, and parliamentary authority to legislative proceedings. Previously, he was assistant general counsel to the Florida Department of Transportation, where he was lead counsel on multi-million dollar litigation focused on construction/design defects and class action lawsuits. He frequently teams with GrayRobinson colleagues across the firm to provide the full spectrum of government and public sector advisory services to clients.
Notable Work

Represented one of the nation's most prominent luxury hotel and casino franchises on several complex gaming transactions, including the successful obtainment of a permit, resulting in a two billion dollar investment for a southeast Florida location.

Credentials

J.D., Nova Southeastern University Shepard Broad Law Center, 2000
B.A., Florida International University, 1996



Admissions

Florida
U.S. District Court for the Southern, Middle, and Northern Districts of Florida