Elio F. Martinez, Jr.
Attorney At Law
---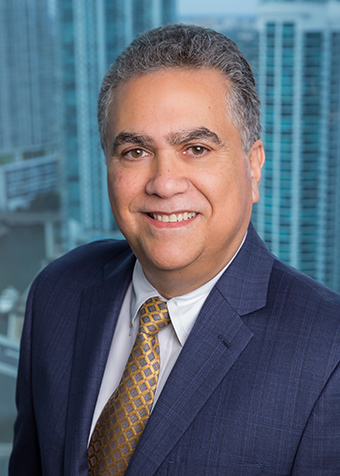 Shareholder
Go-to intellectual property lawyer collaborating with marquee brands in Florida and across the Americas. Known for extensive trial and appellate experience.
Elio Martinez represents global brands in complex intellectual property litigation. His client collaborations include matters related to trademark counterfeiting, trademark infringement, copyright infringement, patent infringement, and trade secret misappropriation. Elio's global experience extends to helping clients operating across a range of sectors develop and implement anti-piracy efforts in the United States and internationally. He also advises emerging businesses and start-ups seeking to grow and protect their intellectual property assets.
In addition to his intellectual property work, Elio has extensive experience in complex commercial and financial services litigation and trials. He has represented lenders in multimillion-dollar litigation and workouts of troubled loans, as well as securities brokers in FINRA arbitration hearings. He is an arbitrator with the American Arbitration Association and regularly represents clients in international arbitration proceedings. His fluency in Spanish, coupled with his international background and understanding of the customs and procedures throughout the Americas, provides clients with a heightened degree of support in confronting legal challenges and bet-the-company circumstances.
As a complement to his client work, Elio has shared his experience with law students as an adjunct professor of intellectual property law and as a regular contributor to business and legal publications. He has also lectured widely on myriad legal subjects, including trade secret protection and the effective use of expert witnesses in intellectual property litigation.