Jessica F. Love*
---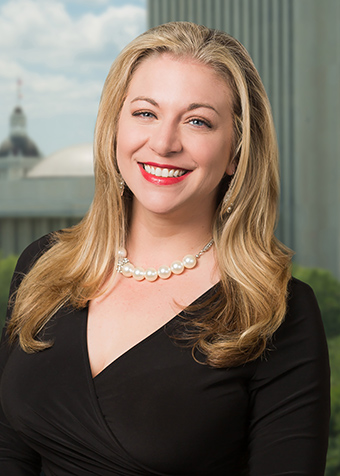 Senior Government Affairs Advisor
T 850.577.9090
F 850.577.3311
Tallahassee 301 South Bronough Street Suite 600 Tallahassee, Florida 32301
Jessica is a senior government affairs advisor in GrayRobinson's Tallahassee office, where she has worked for more than a decade. During her career, she has accumulated over 18 years of experience in government relations matters involving the Florida Legislature, the Governor and Cabinet, and state agencies. Jessica began her career in government in 2002, working for a boutique lobbying firm which represented construction and telecommunication industry interests in front of state and local governments. Four years later, she began working for Huey, Guilday, Tucker, Schwartz and Williams, P.A., until the firm's governmental practice group merged with GrayRobinson in 2007.
Jessica has a strong reputation for problem-solving, building relationships, communications, and above all else, teamwork. She is well-versed in the political process and represents a wide variety of clients, ranging from professional associations to multinational corporations. She has advocated for Fortune 500 companies, securing economic development funding and helping develop tax policies favorable to businesses operating in Florida. Her professional experience includes design and construction law, where she has helped pass legislation to not only address industry regulations but also to abrogate judicial interpretations which were detrimental to the industry. Her experience also includes health care, where she has focused on policies relating to laboratory and hospital regulation, Low Income Pool funding, and Graduate Medical Education funding.
Jessica is also familiar with Florida's appropriations process. She has worked to secure millions in the state budget for both recurring operating funds and Public Education Capital Outlay funding on behalf of numerous state colleges. On behalf of local government clients, Jessica successfully advocated for millions of dollars in local project appropriations funding in both of the last two legislative budget cycles, and has worked with the Florida Department of Economic Opportunity to ensure receipt of more than a million dollars in Florida Job Growth Grant Fund awards and more than $4 million in allocations from the Rebuild Florida Infrastructure Repair Program.
Although Jessica grew up in historic Apalachicola, Florida, she has called Tallahassee home since moving to the Capital City in 1999. She and her husband Andrew, a 7th generation Floridian, are proud parents to their children: daughter Leighton (10), and son Drew (7).
* Denotes non-attorney professional
Insights

"Commercial Real Estate Legal Updates," CREW Fort Lauderdale/Boca Raton "Coffee with CREW," May 11, 2021
"The Winners Circle: Covering Florida's Election Results," November 4, 2020
"Who's in and Who's Out?" Post-Election Pop-Up Forum, August 19, 2020
"Understanding Florida's Legislative Process and Committees," Florida Nurses' Association Advocacy Days, January 22, 2020
"Working and Communicating with Legislators," Florida Nurses' Association Advocacy Days, January 22, 2020
"2019 GrayRobinson Florida Legislative Session Wrap-Up," Fort Lauderdale, May 22, 2019
"2019 GrayRobinson Florida Legislative Session Wrap-Up," Miami, May 21, 2019
"Understanding Florida's Legislative Process and Committees," Florida Nurses Association 2019 Advocacy Days, March 13, 2019
"2018 GrayRobinson Florida Legislative Session Wrap-Up," Jacksonville, April 18, 2018
"2018 GrayRobinson Florida Legislative Session Wrap-Up," Tampa, March 27, 2018
"Understanding Florida's Legislative Process and Committees," Florida Nurses Association 2018 Advocacy Days, January 17, 2018
"Working and Communicating With Legislators," Florida Nurses Association 2018 Advocacy Days, January 17, 2018
"Legislative Issues 101," Florida Association of the American Institute of Architects 2017 Annual Conference, July 7, 2017
"GrayRobinson's Guide to the 2015 Legislative Session," Webinar, July 8, 2015
"GrayRobinson's Guide to the 2014 Legislative Session," Webinar, July 9, 2014

Media

"Personnel File --- People on the Move," News Service Florida, September 8, 2022