Kim McDougal*
---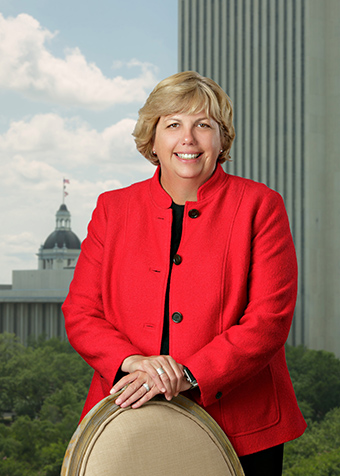 Senior Government Affairs Consultant
T 850-577-9090
F 850-577-3311
Tallahassee 301 South Bronough Street Suite 600 Tallahassee, Florida 32301
Kim McDougal, Ph.D. is a senior government affairs consultant in GrayRobinson's Tallahassee office and one of the top education lobbyists and experts in Florida. Kim is known for her nearly three decades of experience serving in multiple leadership roles within the executive and legislative branches of Florida's government. Kim knew early on her passion was to make a difference in the lives of students. Her passion and commitment to students is as strong today, as it was then.
In addition to Kim's thorough knowledge of the various K-20 education issues in Florida, she also focuses her lobby practice on areas such as nonprofits, local governments, major corporations, and business development with state and local governments and provides consulting services as well.
Most recently, Kim successfully advocated for funding for building a new elementary/middle school in a rural district, creating a panic alert system for K-12 students, and securing funding for individuals with disabilities, as well as legally blind Floridians. Additionally, Kim has successfully worked with several statewide associations, nonprofits, local governments, major corporations on the advancement of their legislative agendas, including both substantive legislation and appropriations.
Prior to joining GrayRobinson, Kim served as chief of staff to Florida Governor Rick Scott, where she was responsible for directly serving and advising the Governor on issues pertaining to 100,000+ executive branch employees and administering an $83 billion state budget. She also served as Governor Scott's deputy chief of staff, legislative affairs director, education policy coordinator, and as policy advisor during his successful re-election campaign.
Kim has served as a senior advisor or in a leadership role for many of Florida's Commissioners of Education, including Florida's first appointed Commissioner Jim Horne. She also served in several roles under the Governor Jeb Bush Administration within the Executive Office of the Governor, including education policy coordinator in the Office of Policy and Budget.
Kim began her public service career with the State of Florida in 1989 as a program auditor with the Office of the Auditor General, which later became the Office of Program Policy Analysis and Government Accountability (OPPAGA), where she went on to serve as a senior staff director.
Kim currently serves on the board of directors for the Florida Sports Foundation and the Florida Association of Professional Lobbyists. She previously served on Governor-elect Ron DeSantis' Transition Advisory Committee for Education and Workforce Development. She is involved with several organizations, including the Florida Association of Intergovernmental Relations, Association of Florida Colleges, Florida Education Legislative Liaisons, and the Orlando Economic Development Council's Political Leadership Institute.
Kim holds a Ph.D. and a M.S. from Florida State University in Education, and a bachelor's degree in Education from Tulane University. She resides in Tallahassee, Fla., and enjoys spending time at the beach, golf carting, and watching college and professional football.
* Denotes non-attorney professional