Thomas C. Feeney, III
Attorney At Law
---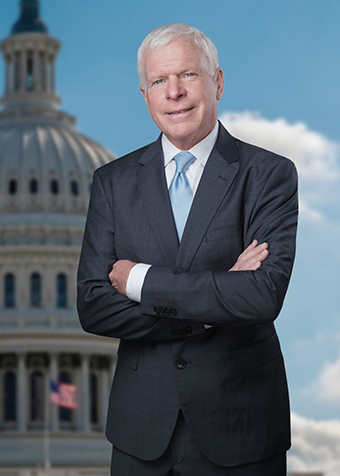 Of Counsel
Committed strategist with decades of leadership experience. Former member of the U.S. House of Representatives and Speaker of the Florida House of Representatives armed with the connections and vision to stimulate growth and remove obstacles for firm clients.
As a seasoned advocate deeply rooted in Florida's government, legal, and business communities, Thomas "Tom" Feeney's valuable relationships and ability to coordinate on the local, state, and federal levels serve to further his clients' business objectives. Tom focuses on federal government advocacy, with concentration in various areas, including financial services, intellectual property and copyrights, defense and aerospace, transportation, economic development, and tax policy. Tom also focuses on state and local government affairs and has been a practicing attorney for more than 40 years.
Utilizing a robust combination of equal parts tenacity and intellect, Tom has spent more than two decades advocating in Tallahassee and Washington for responsible health care reform, growth initiatives impacting aerospace, simulation, and high-tech manufacturing, and economic policy promoting free enterprise and prosperity. Among other initiatives, Tom was actively involved in establishing and growing the I-4 Hi-Tech Corridor, Lake Nona's Medical City, VA Medical Center, UCF Nursing School, the modeling and simulation training industry, and space-related growth in Central Florida.
Tom began his dedication to public service in 1990, when he was elected to the Florida House of Representatives. He served two terms before he was chosen as Governor Jeb Bush's running mate in Florida's 1994 gubernatorial election. In 1996, Tom returned to the Florida House, where his peers elected him Speaker of the House for the 2000 through 2002 term. Following his impact on Florida policy, Tom was elected to the U.S. House of Representatives in 2003, where he represented Florida's 24th Congressional District until 2009. Tom served on the U.S. House Judiciary; Financial Services; and Science Space, and Technology Committees, and was involved with the Intellectual Property Subcommittee; Intellectual Property Caucus; Space and Aviation Subcommittee; and Congressional Modeling, Simulation, and Training Caucus.
For the past decade, Tom has served as President and CEO of Associated Industries of Florida (AIF), a business and trade organization known as the "voice of Florida business." Prior to his work for AIF, Tom served as a senior visiting fellow for The Heritage Foundation.