Elio F. Martinez, Jr.
Attorney At Law
---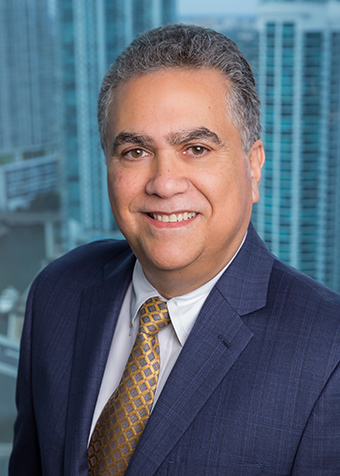 Shareholder
T 305.416.6880
F 305.416.6887
D 305.913.0381
Miami 333 SE 2nd Avenue Suite 3200 Miami, Florida 33131
T 202.546.1761
F 202.546.6480
Washington 99 M Street SE Suite 725 Washington, D.C. 20003
Elio is a shareholder in the Miami office, focusing his practice on intellectual property litigation, specifically infringement of trademarks, patents and copyrights, as well as protection of trade secrets. He also has extensive experience in commercial litigation and financial services litigation. He has represented lenders in multi-million dollar litigation and work-out of complex troubled loans, and securities brokers in FINRA arbitration hearings. In addition to his trial experience, he has argued numerous appeals.
For more than 30 years, Elio has been litigating matters of trademark counterfeiting, trademark infringement, copyright infringement, patent infringement and trade secret misappropriation. His intellectual property experience also extends to helping clients, owners of world renown trademarks, develop and implement anti-piracy efforts in the United States and abroad. His clients have included many of the best-known brands in the world, as well small businesses seeking to develop and protect their intellectual property.
Elio regularly represents clients in international arbitration proceedings. His fluency in Spanish, coupled with his international background and understanding of the customs and procedures throughout the Americas, provides these clients with a heightened degree of comfort and support when confronting difficult issues and situations. He is also an arbitrator with the American Arbitration Association.