Carlecia Collins*
---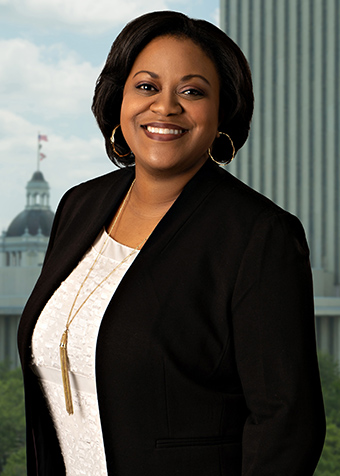 Government Affairs Advisor
Carlecia, a government affairs advisor in GrayRobinson's Tallahassee law firm office, has more than a decade of experience working in Florida politics. Her experience includes serving as a special assistant to the Speaker of the Florida House of Representatives and in several leadership roles within the Florida Senate. In her most recent position, Carlecia served as a senior legislative assistant for Florida Senate President Bill Galvano, where she handled statewide appointments to boards, commissions, and taskforces for the Florida Senate.
From 2011 through 2016, Carlecia served as the "gatekeeper" for House and Senate presiding officers to ensure their availability to legislators, lobbyists, and the public. While attending Florida State University, she worked as a senior legislative assistant for Florida Senate District 16. In this role, during the 2016 Legislative Session, Carlecia coordinated budget priorities for the chair of the Senate Committee on Appropriations and served as the liaison between the chair, constituents, and lobbyists. She also worked with the chair to ensure the representation of senators' priorities in the final budget.
Carlecia has an in-depth knowledge of Florida's legislative process, which is invaluable to her clients in helping them achieve their legislative priorities.
* Denotes non-attorney professional
Insights

"2023 GrayRobinson Florida Legislative Session Wrap-Up," Gainesville, May 24, 2023
"2022 GrayRobinson Florida Legislative Session Wrap-Up," Gainesville, April 21, 2022
Florida School Boards Association Annual Day in the Legislature, February 2, 2022
"2021 Legislative Session Review," Florida School Boards Association/Florida Association of District School Superintendents Annual Summer Conference, June 11, 2021
"Legislative Session Update," Institute of Politics at Florida State University, April 20, 2021
"2021 GrayRobinson Florida Legislative Session Weekly Roundup," March 19, 2021
Florida School Boards Association Annual Day in the Legislature, March 5, 2021
"The Winners Circle: Covering Florida's Election Results," November 4, 2020

Affiliations

Florida Education Legislative Liaisons
Florida Association of Professional Lobbyists
Tallahassee Community College Foundation, Board of Directors

Tree House of Tallahassee, Inc., Board Member

Leadership Florida Connect Class 11

Credentials

M.A., Florida State University, Applied American Politics and Policy
B.S., Florida State University, Interdisciplinary Social Science
A.A., Tallahassee Community College, Interdisciplinary Social Science