T. Todd Pittenger
Attorney At Law
---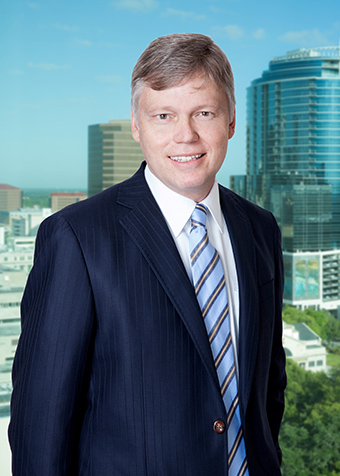 Shareholder
T 407.843.8880
F 407.244.5690
Orlando 301 East Pine Street Suite 1400 Orlando, Florida 32801
Todd is a litigation shareholder in GrayRobinson's Orlando office. With more than three decades of trial and appellate court experience, Todd focuses his practice on both state and federal civil litigation, real estate and contract litigation, securities and corporate governance disputes, class action defense, and intellectual property litigation throughout Florida. With a mission focused entirely on client service,. Todd has a successful track record handling bench and jury trials in state and federal courts.
Board Certified by The Florida Bar in Business Litigation in 2005, and recertified by the Florida Bar every five years since, Todd is continually ranked by leading industry publications such as The Best Lawyers in America for Commercial Litigation and Litigation-Intellectual Property, and Florida Super Lawyers for Business Litigation. He is a Martindale-Hubbell AV rated attorney and a Fellow of the Litigation Counsel of America. Todd is a past Orlando Chapter Federal Bar Association president and his civic involvement includes recent tenure as chair of the board of directors for the Coalition for the Homeless of Central Florida, where he continues to serve in other leadership roles.
After graduating from the University of North Carolina School of Law in Chapel Hill in 1988, Todd practiced for 23 years at the Orlando law firm of Lowndes, Drosdick, Doster, Kantor and Reed, P.A. where he became a shareholder in 1995 and later led the firm's complex litigation team. Todd then joined Akerman LLP's litigation practice group as an equity partner, where he practiced for six years before proudly moving his sophisticated business litigation practice to GrayRobinson.
Todd's notable work includes:
Class Action Defense:
Todd defended several public universities by establishing sovereign immunity in the defense of statewide student tuition and fee class action lawsuits, at the trial level and on appeal.
Todd successfully defended a statewide company in the defense of a bet-the-company Labor Pool Act class action by winning a reverse bifurcation merits bench trial on a statutory construction declaratory judgment counterclaim, and then Todd achieved favorable outcomes at the Fourth DCA and Florida Supreme Court on appeal.
Todd won a week-long class certification state court trial defeating class action status against a homebuilder in which the plaintiff had sought subdivision-wide rescission and $52 million in damages under the Interstate Land Sales Full Disclosure Act.
In both the construction defect and medical malpractice context, Todd won dispositive dismissals of class actions by obtaining rulings that pre-suit notice requirements had to be complied with on a classwide basis. Both cases ended as class actions as a result. In one of them, a significant fee shifting judgment was imposed on Class Counsel once the dismissal was affirmed on appeal.
Todd led the defense of managing partners sued in class actions attacking a merger transaction, achieved dispositive dismissals of the claims of 42,000 limited partners based on lack of standing grounds.
Todd led the defense of a national company in federal and state court fuel surcharge class action litigation in Florida, California and several other states, and secured nationwide settlement for Defendants that cost-effectively eliminated several hundred thousand class member claims.
Todd led the defense of an automaker in a Consumer Leasing Act nationwide class action that resolved disclosure claims for more than 600,000 class members.
Todd led the defense of a cruise line in the defense of a class action that resolved nationwide port charges claims for more than 2,000,000 class members.
Todd has defended many businesses and non-profits in the resolution of Telephone Consumer Protection Act (TCPA) and Florida Deceptive and Unfair Trade Practice Act class actions.
Real Estate Litigation:
Todd successfully defended a significant real estate asset against several lawsuit claimants by winning a bench trial in 2015 in which the Court ruled the plaintiff lacked standing to sue Todd's client for breach of contract, and then after winning a per curiam affirmance on appeal, Todd used collateral estoppel to defeat a related company's tortious interference claim by summary judgment that was also affirmed on appeal.
Todd successfully defended a developer in a permanent injunction case brought by an HOA which had sought to enjoin an adjacent multi-family project based on Declaration of Restrictive Covenants, a result that was affirmed on appeal.
Todd won another bench trial for a developer against an HOA resulted in a stay a $14 million subdivision-wide construction defect lawsuit for improperly obtaining the statutorily required authorization from a majority of the lot owners and required the HOA to pay the developer's attorney's fees, the end result of which was a complete construction case resolution.
Intellectual Property Litigation:
Todd represented pool cleaner inventors in a two-week liability phase jury trial which resulted in a favorable declaratory judgment adjudicating patent rights that led to a favorable settlement.
Todd defended a chemical manufacturing company in a two-week federal patent infringement trial, the end result of which was a nominal damages judgment for the Plaintiff.
Todd prosecuted a significant federal trade secret and injunctive relief case against a former employee and a competitor in the municipal securities business, the end result of which was a consent injunction and confidential settlement.
Corporation, Partnership and LLC Disputes and the Defense of Securities Cases:
Todd has served as lead counsel for control persons in the successful defense of breach of fiduciary duty and other similar internal governance litigation, defending direct and derivative claims.
In one 50/50 deadlocked limited liability company dispute among members suing one another, Todd achieved summary judgment on business judgment rule defense for managing member on multiple breach of duty tort claims while preserving for trial that managing member's own offensive claims for misconduct.
In another 50/50 deadlocked limited liability company dispute involving management and control of several related businesses, Todd achieved early resolution of claims and counterclaims in direct and derivative lawsuits through a negotiated buy-out that effectuated the desired change of control.
In a suit by a group of physician Limited Partners against the General Partner of Lithotripsy Limited Partnership, Todd first won a federal court dismissal of all Anti-Kickback Act claims, and then Todd later won a state court dismissal of all remaining non-contract claims (breach of fiduciary duty, fraud, unjust enrichment, etc.) resulting in an early settlement that enforced the share buy-back provisions of the contract.