Lee Stathis Haramis
Attorney At Law
---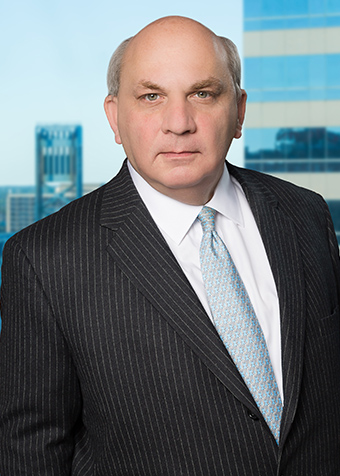 Shareholder
Lee is a native and lifelong resident of Jacksonville who started his career in 1984 as an Assistant State Attorney in the 4th Judicial Circuit of Florida. In his roughly two years with that office he prosecuted a variety of significant criminal cases, including white collar crime, drug trafficking cases and handled numerous jury trials. Thereafter, since 1987, Lee has practiced with large local and national firms before joining GrayRobinson and opening the Jacksonville office in 2004.
Lee has over 37 years of significant trial and appellate experience in a variety of complex civil litigation matters. He has litigated matters in federal and state courts before juries, courts and hearing officers, as well as having presented claims and defenses in administrative, arbitration and alternative dispute resolution forums. These have included matters in Florida, Georgia, Illinois, Maine, Maryland, Massachusetts, Minnesota, California, North Carolina, Missouri, Ohio, Washington, Texas and Arizona. Lee has appeared pro hac vice in matters in numerous state and federal courts. Lee's administrative law and proceedings experience has included matters before the Florida Department of Environmental Protection and the U.S. Armed Services Board of Contract Appeals. He has also represented clients in federal and state appellate matters in courts throughout the country, including the U.S. Supreme Court, where he successfully brought a certiorari petition in a significant products liability matter involving federal preemption. These matters have involved several reported decisions in multiple areas of the law, including federal discrimination claims, punitive damages, federal pre-emption issues, stockbroker liquidations including SIPC coverage claims involving "Ponzi Schemes", misrepresentation and fraud, environmental claims, and a variety of state law based substantive and procedural issues.
Lee is AV rated by Martindale-Hubbell and practices in the areas of litigation and appellate work, with an emphasis on complex commercial and tort litigation matters. These areas include bankruptcy, contract interpretation and enforcement, construction, copyright and intellectual property, employment, fiduciary duty, finance and lender liability, insurance defense and coverage, landlord-tenant, mortgage foreclosure, personal injury, products liability, professional liability including legal, medical, and design professionals, real property and title, securities, technology, transportation, and unfair competition and trade practices, including antitrust.
Lee has been a frequent lecturer at continuing legal education seminars and most recently presented materials and acted as a panelist at the Jacksonville Bar Association's "Attorneys' Fees Summit" held in May 2019, which addressed a variety of topics involving pursuit and defense of claims for attorneys' fees. Lee also has substantial experience as an engaged expert witness to support or defend attorneys' fees claims in a variety of matters and he is also available for expert engagement for attorneys' fee litigation and for expert analysis and testimony for Plaintiffs or Defendants in legal malpractice cases.
Lee has also devoted particular attention to insurance coverage and constitutional issues in the variety of contexts resulting from the recent pandemic. This is particularly geared for clients pursing business interruption and coverage claims, or defending such, along with many other challenges and legal issues resulting from the pandemic. He is available for representation or to advise concerning such matters and utilizes data bases cataloging various court decisions addressing these issues as a resource for clients involved in such matters.
Lee's experience has resulted in his having handled virtually every type of case or legal matter and he therefore has gained insight into the operations of a plethora of businesses, which brings great value to clients. Nevertheless, Lee eschews more recent notions of "specialization" in law practice, instead taking a multi-disciplinary approach to the specific subjects involved in the particular matter. This involves purposely becoming immersed with knowledge about the specific industry or subjects and topics pertinent to the matter, along with the client's goals. He then applies and relies on the general skills and expertise which relate to all litigation and to solving challenges. Employing this approach meets the particular client's expectations and goals as efficiently as possible, with the end result of client satisfaction being the ultimate goal.