Kenneth D. McArthur, Jr.
Attorney At Law
---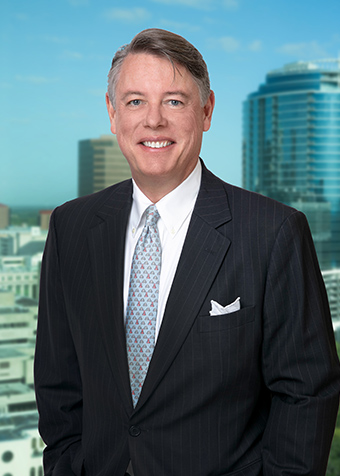 Shareholder
Ken McArthur's practice is focused on health care litigation, counseling, and consulting on a national level. He has 28+ years of experience working in the health care sector and has assisted thousands of health care sector participants throughout the U.S. — including professionals, businesses, associations, and government entities — in a broad spectrum of legal and government relations matters.
Ken has represented health care clients in a variety of civil litigation matters in federal and state courts around the country. Most of these matters have been complex litigation (including multi-district litigation and class actions) involving allegations of anticompetitive and fraudulent conduct in the U.S. pharmaceutical industry. For example, Ken served as one of the lead attorneys (and as a consulting expert on pharmacy law and the U.S. pharmaceutical industry) to a group of nearly 4,000 pharmacy businesses located throughout the U.S. in the Brand Name Prescription Drugs Antitrust Litigation, which economists described as "the largest antitrust case ever brought in the pharmaceutical industry" and "one of the largest antitrust cases in American history."
In addition to handling litigation matters, Ken counsels health care businesses on compliance with federal and state laws governing business arrangements within the highly-regulated U.S. health care sector. He also represents both health care professionals and businesses in government and private-party audits, internal and external investigations, disciplinary/regulatory enforcement matters, contractual negotiations, and payment disputes.
Ken has served in numerous litigation, regulatory, and government relations matters as a consulting expert on the subjects of pharmacy law, pharmaceutical care, pharmacy benefit management, prescription drug benefit plans, prescription drug pricing practices, and the roles of pharmacists and pharmacies in the U.S. health care system. Having taught pharmacy law at the graduate school level and served clients from every segment of the U.S. pharmaceutical supply chain, Ken has an uncommonly deep knowledge of pharmacy law and the U.S. pharmaceutical industry.
As a lobbyist on behalf of U.S. health care sector participants, Ken has worked with the Centers for Medicare and Medicaid Services (CMS), the Food and Drug Administration (FDA), the Office of Inspector General (OIG) of the Department of Health and Human Services (HHS), the Federal Trade Commission (FTC), the Department of Labor (DOL), and the Department of Justice (DOJ).
Previous clients include drug repackagers, drug wholesalers, durable medical equipment (DME) providers, government entities (state and federal), group purchasing organizations (GPOs), health plan sponsors, health plans, health systems, home health care providers, hospice providers, hospitals, law firms representing health care sector participants, long-term care (LTC) facilities, managed care organizations (MCOs), medical practices, medical transportation providers, nurse practitioners, pharmaceutical manufacturers, pharmacies (compounding, institutional, mail-order, retail, and specialty), pharmacists, pharmacy benefit managers (PBMs), pharmacy services administration organizations (PSAOs), physical therapists, physician assistants, physicians, professional/trade associations, psychologists, psychology practices, and surgical assistants.