Joshua A. "Josh" Bachman
Attorney At Law
---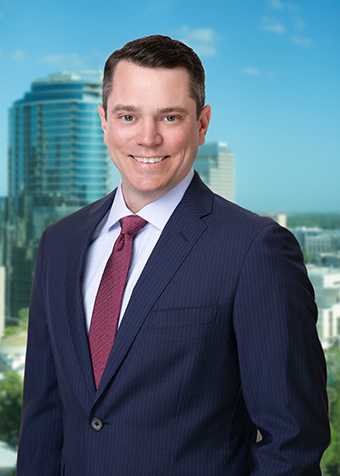 Shareholder
T 407.843.8880
F 407.244.5690
Orlando 301 East Pine Street Suite 1400 Orlando, Florida 32801
Compassionate and trusted advisor guiding clients through delicate personal and professional disputes. Providing comprehensive solutions for individuals and businesses throughout Florida.
Josh Bachman is a litigation shareholder in GrayRobinson's Orlando office. He represents individuals and business entities in complex civil and commercial litigation matters. Josh's practice includes assisting clients with navigating and litigating contract disputes, business torts, landlord-tenant disputes, and corporation, partnership, and limited liability company disputes, including derivative and direct claims brought by shareholders, partners, and members of limited liability companies.
Josh also serves as a trusted advisor for clients navigating marital and family law concerns. A thoughtful and measured counselor, he guides clients through sensitive and sometimes challenging circumstances surrounding pre-marital planning, divorce, paternity, child support and timesharing, alimony, and equitable distribution of assets. Josh works collaboratively with clients to reach favorable solutions. His practice focuses on high-net-worth family representations and matrimonial law.
Understanding the financial and emotional burden of litigation, Josh endeavors to resolve cases in cost-sensitive and respectful ways. His family law work is informed by a depth of experience in commercial litigation and complex business disputes. His expertise in forming, mending, and dissolving all types of relationships extends to handling disputes among associates in a partnership, shareholders in a corporation, and members in a limited liability company.
Josh appreciates the uniqueness and complexity associated with personal legal needs and collaborates with adjacent professionals to share ideas and resolve potential problems before they arise. He often teams with CPAs, financial planners, appraisers, business valuators, and psychologists, as well as GrayRobinson colleagues in the corporate, private client, real estate, and tax practice areas to provide comprehensive counsel.

Affiliations

The Florida Bar
Orange County Bar Association

Credentials

J.D., University of Florida Levin College of Law, 2012, cum laude
B.S., University of Central Florida, 2007, cum laude

Admissions

Florida
U.S. District Court for the Southern and Middle Districts of Florida