John M. "Jay" Brennan
Attorney At Law
---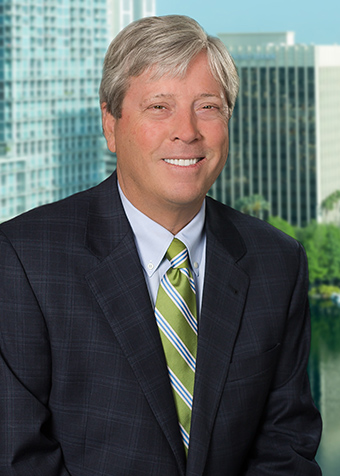 Litigation Section Chair
Diligent, steadfast advocate providing business litigation solutions for corporations and individuals across Florida. Helping clients resolve disputes in the business, health care, banking, and real estate sectors.
Jay Brennan is a seasoned, thoughtful litigator with deep roots in Central Florida. He has watched the city of Orlando grow and thrive throughout his practice, evolving his approach over the last four decades to meet and exceed changing client needs and expectations. Jay represents financial institutions, individuals, corporations, and other business entities in complex civil and commercial litigation matters at both the trial and appellate levels.
A steady partner for businesses navigating the cyclical nature of Florida's dynamic economy, Jay provides calm, measured guidance in a wide array of corporate and transactional disputes across numerous sectors, including banking, health care, retail, and real estate. He collaborates with financial institutions, hospitals, insurance companies, and large employers. Notable client relationships include AdventHealth, Parrish Medical Center, TD Bank, and Walmart.
Jay is dedicated to creating positive outcomes for his clients, delivering efficient and effective solutions with each and every matter. His expertise includes contract disputes, corporate and partnership disputes, antitrust, mortgage foreclosure, commercial collections, commercial landlord/tenant litigation, business tort and trade secret litigation, employment contract and non-competition disputes, commercial products liability, franchise and manufacturer/dealer disputes, and construction disputes. Jay takes great pride in his tenure at the firm and is committed to teaming with GrayRobinson colleagues in the corporate, labor and employment, health care, and other practices to support his clients with well-rounded, robust counsel.