Thomas J. Wilkes
Attorney At Law
---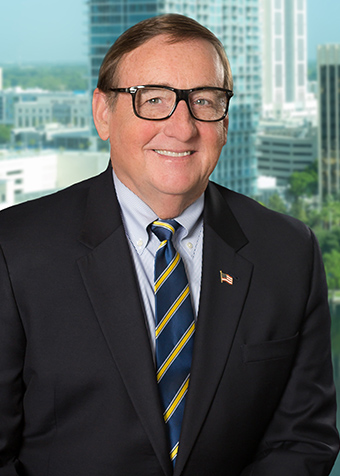 Of Counsel
Tom Wilkes has some 40 years of experience in local government law. As a partner at GrayRobinson, he served on the 1986 and 1988 charter commissions that resulted in sweeping changes to the form of government for Orange County, including the creation of the office of the Orange County Mayor. Then, in 1990, the first Orange County Mayor, Linda Chapin, asked Tom to serve as her county attorney. He accepted the offer, resigned from GrayRobinson, became the County Attorney and stayed in the position for 12 years, serving under three county mayors (Chapin, Mel Martinez and Rich Crotty) and gaining a reputation statewide as a practitioner in local government law. In 2001, his leadership resulted in the County Attorney's Office being given the ABA's Jefferson Fordham Award for government law-office accomplishment – a recognition that the office was perhaps the top government law office in the nation. In 2003 and 2004, Tom was once again appointed to serve on the Orange County Charter Review Commission. He was appointed by then-County Commissioner (now chair of the Orange County Public School Board) Teresa Jacobs and was elected by the Charter Review Commission members to serve as the commission chair.
As Orange County Attorney, Tom was involved specifically and extensively in some of the most complex construction and regulatory matters in the County's history. He was also the lead County staff person in complex financings, including several cutting-edge "tax increment" matters. He drafted the documents for the International Drive CRA, still functioning and funding needed improvements to the I-Drive tourist and convention area. He structured the non-CRA tax-increment financing for the interchange at I-4 and the Osceola Parkway, which involved Orange County and the Reedy Creek Improvement District. Tom also negotiated the tax-increment financing for the Conroy Road and Universal Boulevard interchanges on I-4, both done by the City of Orlando's CRA's with Orange County's consent.
Upon leaving the county in 2002, Tom rejoined GrayRobinson. He concentrates on all aspects of state and local government law, such as land use, taxation and finance, utility law, constitutional law, administrative law and litigation law. He is general counsel to Space Florida, the state agency responsible for developing commercial aerospace industries in Florida. He is also general counsel to Career Source Central Florida and the Orange County Library District and serves as town attorney for the Town of Windermere. He has served as special counsel to numerous hospital districts, counties and cities and is asked frequently to speak to public agencies on "good government" law (Sunshine Law, ethics, gift law, financial-disclosure rules, and public-records law). Tom has particular expertise in local government taxation, including property taxation, local government sales taxes and special district taxation.