J. Charles Gray
Attorney At Law
---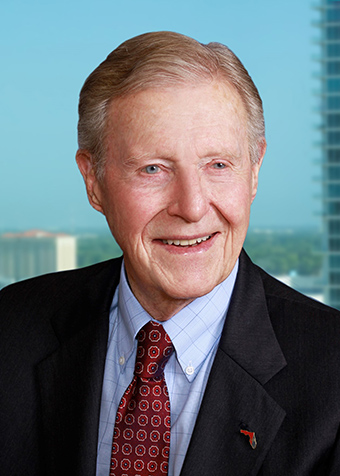 Chair Emeritus
J. Charles "Charlie" Gray is Chair Emeritus and a founding partner of GrayRobinson law firm, with offices spanning the State of Florida and Washington, D.C. He is headquartered in Orlando, where he continues to practice law.
In 1960, Charlie co-chaired in Central Florida, the successful campaign of Doyle Conner for Commissioner of Agriculture. In 1964, Charlie chaired the Central Florida campaign for Governor Haydon Burns and secured his commitment to fund and locate in Orange County, the Florida Technological University (FTU), which later became the University of Central Florida (UCF). He also secured the Governor's commitment to support construction of an East-West Expressway, which is now State Road 408.
Board of Regent member, Dr. Louis C. Murray and Charlie, together, selected the first president of FTU, Dr. Charles Millican. Charlie has since served on every UCF presidential search committee; he served as chair of the President's Council of Advisors for Dr. Millican; chair of the UCF Foundation, and co-chaired with Tom Yochum, the committee to build a new president's home on campus, the Burnett House. Through his business connection and friendship with Al and Nancy Burnett, Charlie influenced the Burnett's philanthropy with the University of Central Florida resulting in a $500k chair at UCF and $500k naming gift for the President's house on campus. The Burnetts also financed the Honors College and gave $10 million dollars for the Burnett School of Biomedical Sciences, the precursor of the UCF Medical School.
Charlie was appointed by Governor Haydon Burns as chair of the Florida Turnpike Authority in 1965. He was the Governor's liaison to the Walt Disney Company during their secret acquisition of 27,000 acres and assisted Disney's navigation within the Executive Branch of Florida's government to establish Walt Disney World.
In 1977, Charlie became county attorney for Orange County because he wanted to assist the development of a Convention Center, which Central Florida needed in order to smooth out the feast or famine cycle of the hotel industry. He worked on the campaign strategy for passing the resort tax, negotiated for the initial 115 acres for the Convention Center and led the planning, construction and funding of the Orange County Convention Center.
As County Attorney, Charlie was given sole responsibility and authority to resolve EPA's injunction halting issuance of any building permits until the County's wastewater facilities achieved "no discharge". Partnering with the City of Orlando, which was also subject to the injunction, Charlie convinced the regional director of EPA in Atlanta, Paul Traina, to support an innovative citrus irrigation project to achieve "no discharge" and to fund it with over half the federal money allocated to the State of Florida for two years running.
Charlie served as county attorney 1977-1985, and helped resolve "turf wars" by providing the Orange County Commission, legal basis to abolish 16 separate politically strong fire districts and form an Orange County Fire Department.
Charlie served a record two terms (1987 – 89) as chair of the Economic Development Commission (EDC) of Mid-Florida. Under his leadership, Lake and Osceola Counties were brought into the EDC; the James B. Greene Annual fundraising event was instituted; and the Corporate Council was created, providing EDC with $500,000 of private funding, replacing public funding for over half of EDC's budget.
Charlie served on the Blue Ribbon Panel to make recommendations for needed improvements to the Orange County School District resulting in over 100 separate recommendations implemented. In addition, he led the effort to create a county-wide elected chair for the Orange County School Board to provide leadership for the seven single member district School Board, resulting in a major improvement of the governance of the Orange County School system.
At the request of M.J. Soileau, Vice President of UCF, in charge of research and commercialization, Charlie served as community co-chair with Harvey Massey, in coordination with EDC, UCF, The Corridor and Osceola County, to create and fund BRIDG, the innovative advance Sensor research and manufacturing facility located at Neo City in Osceola County.
Charles and his wife, Saundra, have a website for their circumnavigation sailing trip around the world aboard their 54' sailboat, Sea Gem.
Charles has been married to Saundra Hagood Gray for over 64 years and they have three children: Terese Vincent, husband Tommy, John C. Gray, Jr., wife Stacey, Lee J. Gray; four grandchildren: Caroline Gray-Hawks, Kristen Gray, Savannah Gray, and John Charles McNeil Gray; and two great-grandchildren: Levi McNeil Hawks and August Grayson Hawks.