Jennifer Vanover
Attorney At Law
---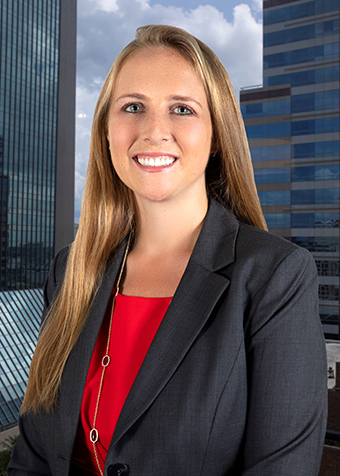 Shareholder
Jennifer is a registered patent attorney in the firm's Jacksonville office. Jennifer's practice includes intellectual property, technology, internet and software, licensing, corporate and healthcare. She regularly assists clients with the selection, procurement, protection, enforcement and licensing of their intellectual property rights and confidential and proprietary information. Jennifer works with clients to develop both short term and long term strategies focused to achieve their goals whether these goals involve the strategic growth of an intellectual property portfolio or the protection of an existing portfolio. Jennifer represents a wide array of clients including large corporations, nonprofit and religious organizations, start-up companies, healthcare companies, technology and internet companies, as well as individuals.
She has extensive experience prosecuting state and federal trademark applications for a variety of clients. Her trademark and patent services include conducting availability searches, preparing registration and infringement opinions, responding to office actions for trademark and patent applications and assisting in managing trademark and patent portfolios. Jennifer routinely assists clients in enforcing their intellectual property rights by preparing cease and desist letters, DMCA and other take down notices.
Jennifer's technology and software practice includes drafting terms of use, privacy policy and end user license agreements for client websites and mobile applications. In addition she routinely prepares software agreements including SaaS agreements, implementation agreements, and software platform development agreements. She has vast experience drafting and negotiating software agreements for clients, including enterprise resource planning software agreements for clients seeking to integrate and streamline various facets of their business operations, and assisting clients in their companies transition from on-premises server model software to cloud software delivery models. She regularly assists clients in preparing and negotiating intellectual property and technology agreements relating to the commercialization and distribution of their products, technology, software and related intellectual property, including licensing agreements, purchase orders, manufacturing and supply agreements, non-disclosure and confidentiality agreements, and distribution agreements.
Additionally, Jennifer assists individuals and corporations operating in the entertainment industry, such as artists, authors, film producers and actors by drafting contracts and releases, including publicity rights releases, production agreements, location release and wrap agreements, translation and dubbing agreements, publishing agreements, speaker and live performance agreements, and master services, consultant and work for hire agreements.
Jennifer graduated with a BA in Chemistry and Criminal Justice from Westfield State University. She obtained her J.D. from the University of Florida Levin College of Law and received a certificate in Intellectual Property. She is a member of the firm's Intellectual Property and Technology Transactions practice group as well as the Healthcare and Religious Organizations practice group. Jennifer joined the firm as a law clerk while at the University of Florida Levin College of Law.