J. Charles Gray
Attorney At Law
---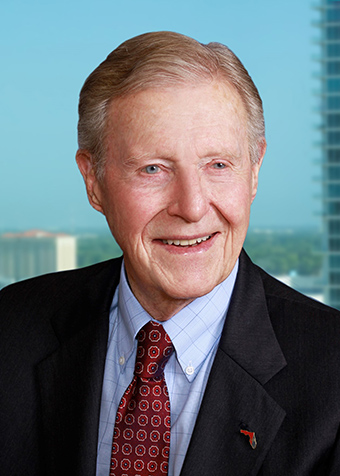 Chair Emeritus
Iconic Central Florida business leader helping clients and colleagues fuel long-term economic growth. Known for influential consensus building and catalyzing impact on the local, state, and federal levels.
J. Charles "Charlie" Gray is a founding partner and chair emeritus of GrayRobinson. A fixture of the Central Florida business landscape for more than four decades, his in-depth work as a public servant, lawyer, and business leader has helped drive the economic development of the region and build a foundation for growth that will carry the community for decades to come. Known for his natural command of the interplay between law and politics, as well as his technical expertise, Charlie has played a key role in some of the most pivotal moments in the area's rich history. Leading with strength and compassion during his foundational tenure, he established an ethos of community-mindedness and agility that defines the spirit of GrayRobinson to this day.
A champion of progress and people early in his career, Charlie served as Orange County Attorney, during which he was involved in developing the county's tourist development plan and launching the Orange County Convention Center and comprehensive growth plan. He also chaired the Florida State Turnpike Authority, in which he was instrumental in securing an exchange between the Florida Turnpike and Interstate 4 – a key factor in the site selection for Walt Disney World. Charlie also helped secure the funding and commitment to locate Florida Technological University (FTU), which later became the University of Central Florida (UCF) in Orange County, opening the door for the subsequent establishment of the Burnett School of Biomedical Sciences, the precursor of the UCF Medical School.
In keeping with the pillars of innovation and collaboration that continue to inspire his work, Charlie served a record two terms as chair of the Economic Development Commission of Mid-Florida, which has had a widespread impact on the region, including the development of BRIDG, a microelectronics research and manufacturing facility established by public-private partnership located at NeoCity, a 500-acre technology district and accelerator in Osceola County.
As chair emeritus, Charlie continues to help evolve GrayRobinson around unique and talented individuals. He works in concert with lawyers and professionals across the firm to help create opportunities, advance client interests, and remove barriers to growth.