Greeley T. Ford*
---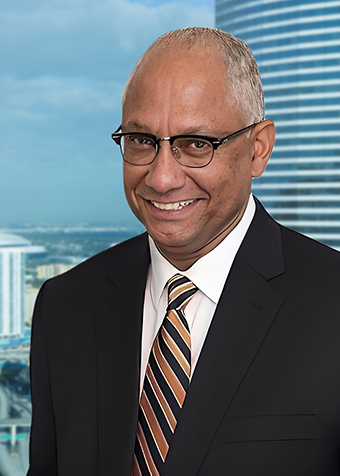 Beverage Consultant
Deeply respected regulatory strategist providing compliance and consulting support for clients across New York and nationally. Former Commissioner for the New York State Liquor Authority.
Greeley Ford is a sought-after advisor in GrayRobinson's Regulated Products Section, one of the most vibrant and diversified alcohol beverage regulatory practices in the U.S., providing compliance and support services for clients with interests in the alcohol beverage, cannabis, food, tobacco, and other heavily regulated sectors. Greeley provides regulatory consulting support for developing and implementing compliance strategies for new and existing products, bringing first-hand knowledge on how the New York State Liquor Authority may interpret various proposals.
Greeley's broad-based public and private regulatory experience bolsters the powerhouse group of former federal and state government regulators serving on the GrayRobinson team. His deep experience helps clients manage complex compliance concerns and the often-intricate interplay between business and government.
Before joining GrayRobinson, the New York State Senate unanimously confirmed Greeley as a two-term commissioner for the New York State Liquor Authority. In this regulatory role, he issued decisions on approximately 12,000 cases concerning licensing for both on- and off-premise locations. Other decisions and approvals he has issued include disciplinary penalties, declaratory rulings, and advisories on procedural adjustments issued by the Authority. Prior to his role as commissioner, Greeley briefly served as a communications director in the New York State Senate.
Greeley also served many roles for AT&T (Cingular Wireless until 2005) and Cellular One prior to his work in government. Beginning his career in cellular in New York in 1988, upon his retirement in 2022, Greeley was the company's longest-serving employee in the central New York market. He has extensive experience with all aspects of the wireless industry, including operations, distribution, sales, public relations, external affairs (including government and legal interactions), media, marketing and retail, and indirect agent sales. He has collaborated with various companies and organizations while representing AT&T, including law enforcement, military, colleges, universities, nuclear and research facilities, manufacturing companies, public sports venues, hospitals, corporate headquarters for blue chips companies, and more.
While at AT&T, Greeley received the Service Excellence Award from his peers and was recognized as a 2022 AT&T Black Future Maker for his commitment to equality and his positive impact on the company and the community. To that end, Greeley wrote a column for two newspapers for many years, highlighting his perspective on political and social issues.
Greeley's true love has always been music. As a professional musician, he has performed throughout the U.S. and Canada, touring or sharing the bill with such world-known acts as The Beach Boys, The Kinks, Maynard Ferguson, Benny Mardonis, Rare Earth, Eddie Money, KC and The Sunshine Band, Jason Marsalis, Gap Mangione, Rick Derringer, The Pointer Sisters, The Temptations, The Commodores, and Earth Wind & Fire. He has also recorded numerous national and local radio commercials.
* Denotes non-attorney professional
Affiliations

Oneida County Board of Ethics, Board of Directors
Stanley Theater, Board of Directors
Utica College Capital Campaign Steering Committee, New England Chair
Utica Observer-Dispatch, Guest Columnist Credentials

Credentials

B.A., Utica College of Syracuse University, Speech Communications/Dramatic Arts

Media

"Mr. Edd band founders recall the comical good times," Daily Sentinel, July 2, 2023
"Area businessman/Liquor Authority commissioner joins firm's national Alcohol Law Team," Daily Sentinel, February 23, 2023
"Local Musician, NY Liquor Auth. Commissioner Hired by FL Law Firm," WIBX 950, February 13, 2023