Paul H. Minoff
Attorney At Law
---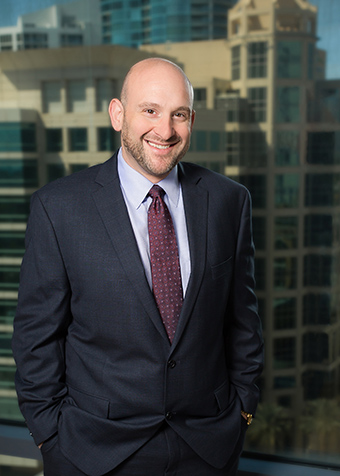 Shareholder
T 954.761.8111
F 954.761.8112
Fort Lauderdale 401 East Las Olas Boulevard Suite 1000 Fort Lauderdale, Florida 33301
Paul is a shareholder of the firm and a member of its Fort Lauderdale banking and finance, real estate, and commercial litigation teams. Paul focuses his practice on handling large commercial real estate matters (representing buyers, sellers, and lenders), residential real estate matters (as title agent and/or seller's or buyer's counsel), title curative matters, landlord-tenant matters (both on the transactional and litigation fronts), and he also keeps a steady caseload of general business and commercial litigation matters.
Paul has substantial experience in general commercial litigation, consumer finance/banking, real estate and title and business contract litigation. In that regard, Paul has represented and is currently representing some of the largest residential lenders and servicers in the country, in various areas related to residential mortgage loan origination, servicing, and default. Paul is also representing a number of large and regional lenders in connection with business and real estate loan refinances, purchase money loans, construction loans, and loan renewals and workouts.
Before returning to private practice in June 2011, Paul opened and managed the Fort Lauderdale regional title litigation office for Fidelity National Title Group (FNTG), the parent company to Fidelity National Title Insurance Co., Chicago Title Insurance Co., Commonwealth Land Title Insurance Co. and Lawyers Title Insurance Co., where he and his team of title litigators focused on representing lenders and property owners in all aspects of residential and commercial title defects, liens and other encumbrances, and curative actions, while also representing the various FNTG companies in breach of contract, bad-faith, declaratory judgment and escrow deposit disputes and actions.
Prior to joining FNTG, Paul was Vice President and Associate General Counsel for JPMorgan Chase Bank, N.A.'s home loans litigation department and First Vice President and Senior Counsel for Washington Mutual Bank's (WaMu) litigation department in Plantation, Florida. While at Chase and WaMu, Paul gained extensive experience in all matters relating to consumer banking and residential loan origination and servicing, including foreclosure, REO, evictions, bankruptcy, collections practices, credit reporting, and government investigations and compliance. Additionally, prior to Chase's acquisition of WaMu's assets, Paul represented the bank in many other areas, including credit card, real estate, branch banking and retail banking-related disputes.
Prior to entering the in-house world in January 2007, Paul was a Senior Associate with Holland and Knight, LLP's Fort Lauderdale office, where he concentrated his practice in commercial, real estate and general business litigation matters, as well as landlord-tenant law. In that regard, Paul represented a sizeable public REIT in all aspects of tenant disputes across the State of Florida, including payment and non-payment defaults, parking space disputes, and evictions and tenant claims of default.