Joel Hirschhorn
Attorney At Law
---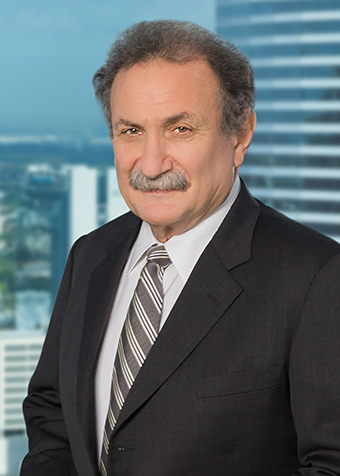 Shareholder
Nationally recognized criminal defense lawyer with decades of high-profile trial experience. Past president of the American Board of Criminal Lawyers defending corporations and individuals in uphill cases across the United States, Latin America, and Europe.
A sophisticated and methodical litigator, Joel Hirschhorn has tried nearly 400 jury trials to verdict over the span of his venerable career. Known for his preemptive prowess, Joel brings a well-worn patina of wisdom and grit to high-profile investigations and has been recognized by The Best Lawyers in America for more than 30 consecutive years. He defends public and private corporations, C-suite executives, public and elected officials, notable entertainers, professional athletes, and individuals in exceedingly sensitive Federal and State criminal matters and is frequently sought after by top-tier national and regional media for his analysis of controversial cases making daily headlines.
Joel is as comfortable in the courtroom as he is at the negotiating table. Known for his for his strategic confidence and formidable cross examination skills, he is well respected in prosecutorial circles and has decades of trial experience in criminal and civil white collar defense covering a broad scope, including commercial fraud, mortgage, securities, and banking fraud, health care fraud, tax fraud, money laundering, RICO and FCPA violations, as well as pandemic-related fraud involving the Paycheck Protection Program (PPP), Economic Injury Disaster Loans (EIDL), and the Coronavirus Aid, Relief, and Economic Security (CARES) Act. He has handled violent and non-violent crimes, narcotics, and related offenses. He also argues numerous Federal and State appeals in courts throughout the United States and before both the Supreme Court of Florida and the Supreme Court of the United States.
Joel is well-versed in the delicate endeavor of minimizing reputational damage and negotiating resolutions. He works with clients to assuage the personal and professional overwhelm that often accompanies criminal investigations. He is acutely aware of the need for direct communication and swift action for clients accused of alleged criminal misconduct, seeking to avoid prosecution, or already embroiled in an indictment. He employs a patient yet dogged pursuit of the way forward for clients, piecing the puzzle together fact by fact, document by document. Joel has facilitated numerous life changing legal outcomes throughout his career and clients appreciate his courage and strength of heart on their behalf, feeling the impact of his intervention for years following resolution.