D. Ty Jackson
Attorney At Law
---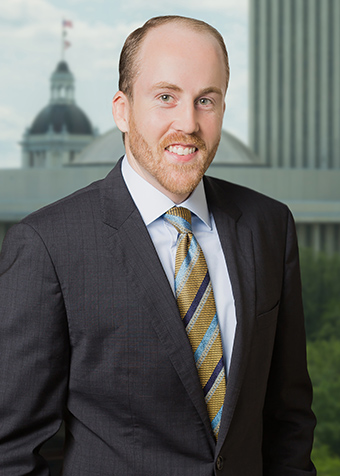 Shareholder
Collaborating with entities and individuals to navigate Florida's regulatory landscape in the health care, construction, and defense sectors, among others. Board Certified by The Florida Bar in State and Federal Government and Administrative Practice.
Ty Jackson provides integrated legal and regulatory strategies for clients facing professional licensing, regulatory compliance, and administrative law challenges. He works with entities and individuals to overcome licensing hurdles, defend against disciplinary complaints, and guide the procurement process. A seasoned litigator known for his deep Florida regulatory expertise, he counsels a wide array of clients operating in the health care, construction, defense, and financial services sectors, among others. Ty also helps clients understand the legal implications of legislative issues affecting business operations and advocates for changes that remove barriers to growth. His experience includes litigation and advocacy before virtually every state agency, regulatory board, and commission, at administrative hearings, in state and federal courts, and before Florida's legislative and executive branches of government.
Ty represents clients across the health care ecosystem and maintains strong agency relationships throughout the state. Known for his straightforward and candid approach, Ty has tried a number of certificate of need matters, procurement protests, whistleblower and fraud cases, as well as challenges to proposed, adopted, and unadopted rules. He also routinely assists clients in seeking licenses or permits and has defended numerous clients against licensure denials and disciplinary proceedings brought by various state agencies and departments. He has also represented local, regional, and statewide officials before the Florida Commission on Ethics and Florida Elections Commission. His health care clients include physicians, hospitals, hospices, special districts, health plans, blood banks, clinical laboratories, pharmacies, pharmacy benefit management companies, pharmaceutical manufacturers, repackagers or distributors, third party administrators, governmental entities, vendors, and corporations.
In addition to his health care portfolio, Ty has extensive experience in construction litigation arising from the regulatory and administrative complexities involving licensing and contracting matters, disciplinary issues, procurement disputes, bid protests, and Florida lien law. Ty regularly defends architects, engineers, design professionals, contractors, and commercial homebuilders before state agencies and regulatory boards. He frequently teams with GrayRobinson colleagues in the government affairs and lobbying, litigation, appellate and trial support, and health care sections to provide robust client counsel.
Notable Work

Assisted a hospice client in applying for and obtaining a Certificate of Need for a new hospice program.
Assisted a health care district in applying for and defending the approval of a Certificate of Need for a new hospital.
Assisted a health care district in applying for and defending the approval of Certificates of Need for pediatric and adult kidney transplant programs.
Obtained summary judgment on behalf of a hospital client discharging a construction lien filed against the hospital property.
Successfully defended a non-profit entity both at the administrative hearing and on appeal against an action by the Florida Department of Agriculture and Consumer Services seeking recoupment of millions of dollars paid to the client for services provided under the National School Lunch Program.
Successfully defended a statewide elected official against alleged violations of the Code of Ethics, Chapter 112, Florida Statutes, before the Florida Commission on Ethics.
Successfully defended a Member of the Florida House of Representatives against alleged violations of the Code of Ethics, Chapter 112, Florida Statutes, before the Florida Commission on Ethics, which proceedings included a full evidentiary hearing at the Florida Division of Administrative Hearings.
Successfully challenged a portion of the Department of Transportation's 2014 Median Handbook as an unadopted rule on behalf of a commercial client.
Obtained partial summary judgment on behalf of a health care client in a qui tam action originally brought by a competitor health care institution and pursued by Florida's Attorney General's Office on behalf of the State of Florida.
Obtained favorable outcomes in numerous complex foreclosure cases on behalf of financial institution clients, including successful defense of claims and counterclaims alleging violations of the Florida Deceptive and Unfair Trade Practice Act and Florida Consumer Collection Practices Act.

Credentials

Board Certified by The Florida Bar in State and Federal Government and Administrative Practice
J.D., Florida State University College of Law, 2007, magna cum laude
B.S.B.A., Finance, University of Florida, 2004, summa cum laude

Admissions