GrayRobinson's recent Community Leader Forum was held at the University Club of Tampa and featured Paul Anderson, Port Director and CEO of Port Tampa Bay.
On February 19, 2014, Paul Anderson, Port Director and CEO of Port Tampa Bay, was the guest speaker at the GrayRobinson Community Leader Forum. Anderson's presentation opened with highlights about Port Tampa Bay including how it is the largest and most diversified seaport which is well-positioned to support significant growth in Florida. Formed in 1945, Port Tampa Bay consists of over 5,000 acres. As Florida's deepest port at 43 feet, Port Tampa Bay hosts a mix of bulk, break bulk and container traffic. Port Tampa Bay is in a strategic location at the intersection of major east-west and north-south trade lanes due to its proximity to Latin America and the Panama Canal expansion as the closest full-service American port to the Panama Canal.
Anderson reported that the international trade business is responsible for one in six jobs and 18% of Florida's economy. Port Tampa Bay is leading Florida in merchandise exports to Latin America and the Caribbean, and is responsible for 36% of all U.S. exports to that region.
Anderson also discussed cruise line activity. In 2012, the Port hosted almost 1 million cruise passengers and they expect to reach that number again this year. The Port received a second Royal Caribbean ship in 2014 and is preparing for future growth and larger ships. Port Tampa Bay is the home port for Carnival Cruise Line, Holland America Line, Royal Caribbean International and Norwegian Cruise Line.
Anderson ended with a discussion on generational impact projects. Some of these projects include the REK Pier Expansion - Energy Gateway for Central Florida, Tampa Gateway Rail Terminal (which includes Florida's first on-dock unit train terminal,) I-4 Connector to Port Tampa Bay (an express connection to overseas markets for Orlando/Central Florida exporters and importers,) and plans to expand the Port for automobile shipments and refrigerated warehouse and rail.
Through its Community Leader Forums, GrayRobinson brings together clients, attorneys and friends of the firm to hear high-profile business and community leaders and elected officials discuss issues of importance to the state of Florida.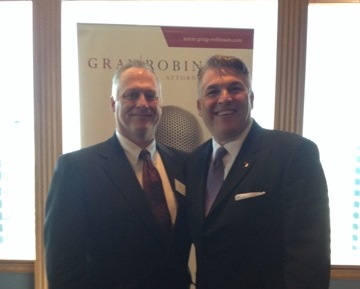 (Left) David Hendrix, Chair, Banking & Finance Practice Group and Shareholder of GrayRobinson and (Right) Paul Anderson, Port Director and CEO of Port Tampa Bay