Joel Hirschhorn
Attorney At Law
---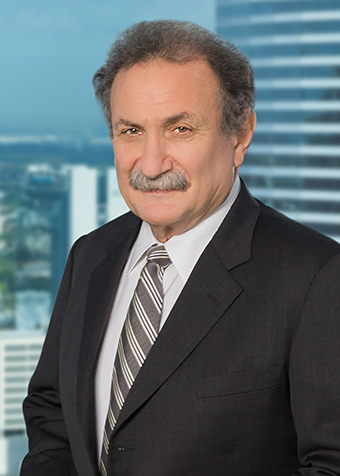 Shareholder
Considered one of America's most prominent criminal defense trial attorneys, Joel Hirschhorn has been named to Best Lawyers in America for 37 consecutive years. He has been published in such prestigious magazines as Forbes, People, US and Town and Country, as well as numerous daily newspapers, including The Wall Street Journal, New York Times, USA Today, the Miami Herald, South Florida Sun-Sentinel and the Daily Business Review.
He has also made guest appearances on the "Oprah Winfrey Show," "Sixty Minutes," "Today," "American Justice" and "Good Morning America." He was named in Florida Trend Magazine, Legal Elite, under the practice of Criminal Law, for the years 2005, 2008-2011, 2015, and named in Florida Super Lawyers from 2006 to present. Also, he was named in the South Florida Legal Guide's "Top Lawyer" in 2014.
Joel focuses his practice on the criminal and civil white collar defense of corporations and business executives, as well as elected public officials and private individuals accused of alleged criminal misconduct. His practice covers a wide range of areas, including commercial fraud, mortgage, securities, and banking fraud, health care fraud, tax fraud, money laundering, RICO and FCPA violations, as well as fraud involving COVID-19/coronavirus issues, the Paycheck Protection Program ("PPP"), Economic Injury Disaster Loans ("EIDL"), and the Coronavirus Aid, Relief, and Economic Security ("CARES") Act.
He has argued before ten of the eleven Federal Courts of Appeals and the U.S. Supreme Court, where he vigorously opposed the media's efforts to televise criminal proceedings over a defendant's objection. Joel was also responsible for the Florida Supreme Court decision that reformed the method of selecting trial juries in the state of Florida. He has personally tried more than 390 jury trials to verdict, has defended criminal cases in 45 Federal districts and 34 State courts as well as having argued in excess of 160 federal and state appeals throughout the United States. In addition, over the years Joel has handled sensitive, often high-profile legal and related matters in the Bahamas, Haiti, Italy, Poland, Turks and Caicos, the United Kingdom and many South and Central American countries.
AV rated by Martindale-Hubbell, Joel is a fellow of the American Board of Criminal Lawyers (President 2003). He is a past president of the Wisconsin Bar Non-Resident Lawyer Division; a life fellow of the Wisconsin Law Foundation; served as a board member on the National Association of Criminal Defense Lawyers and for three years on the Wisconsin Bar Board of Governors. He is also a fellow of the International Academy of Trial Lawyers and the Litigation Counsel of America. In addition, he also holds memberships in the International Who's Who of Business Crime Lawyers, the American Bar Association, the Dade County Bar Association, the First Amendment Lawyers Association (a founder and past president) and the Florida Association of Criminal Defense Lawyers.
Joel is admitted to The Florida Bar, the Wisconsin Bar, the U.S. Court of Appeals (all circuits except the District of Columbia) and the U.S. Supreme Court.