Frank A. Shepherd
Attorney At Law
---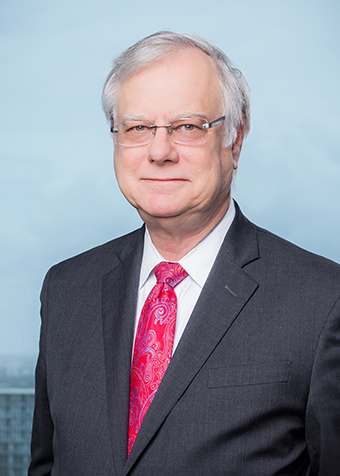 Shareholder
Frank A. Shepherd is a shareholder in GrayRobinson's Miami law firm office. From 2003 to 2017, Mr. Shepherd served as one of ten judges on the Florida Third District Court of Appeal, writing more than 500 published opinions in all areas of civil and criminal law.
Mr. Shepherd began his legal career with the law firm of Bradford, Williams, McKay, Kimbrell, Hamann and Jennings in Miami, Florida, where he maintained both a trial and appellate practice for more than 18 years. In 1981, he was appointed by President Reagan and served as Associate Administrator for Legal Counsel and Enforcement for the United States Environmental Protection Agency. In 1990, he became the founding Florida managing partner of the national law firm of Popham, Haik, Schnobrich and Kaufman, P.A. He was a partner in the law firm of Weissman, Dervishi, Shepherd, Borgo and Nordland, P.A., from 1997 to 1998, and from January 1, 1999, until he was appointed to the Third District Court of Appeal, he was the Florida Senior Attorney for the Pacific Legal Foundation.
His community and professional activities have included service as a director of the James Madison Institute in Tallahassee, Florida (1987-1995), a member of the research advisory board of the Foundation for Florida's Future (1995-1998) and a participant in the Miami-Dade County Guardian ad Litem program. He is a founding member of the Florida Third District Court of Appeal Historical Society and honorary chair of the Cooperative Living Organization Alumni Board, the oldest student-run cooperative living facility in the United States, assisting needy students who otherwise would not be able to attend the University of Florida and where he lived as an undergraduate student at the University of Florida from 1965 to 1968.
Mr. Shepherd brings to GrayRobinson a broad range of legal experience in the areas of administrative law, admiralty and maritime law, alternate dispute resolution, class actions, private property rights and eminent domain, insurance coverage and defense, product liability and mass tort litigation, personal injury and professional liability defense. He is also a recognized expert in state constitutional law and has taught Florida Constitutional Law at St. Thomas University Law School in Miami Gardens for over 13 years.
Mr. Shepherd graduated from the University of Michigan Law School in 1972.